Breast Augmentation
Fuller, Perkier Breasts
Breast Augmentation
Fuller, Perkier Breasts
Breast Augmentation in Toronto
Sometimes Bigger Is Better
Breast augmentation, or augmentation mammoplasty, is a surgical procedure that increases the size of your breasts with silicone or saline filled implants. Pleasing results can only be achieved by an experienced surgeon like Dr. Ronald Levine in Toronto.
Why Get Breast Augmentation Surgery?
You want to increase the fullness and projection of your breasts.
You want to accentuate your body shape with a curvier look.
You want to improve the balance of your figure
You want to enhance your self-image and self-confidence
You want to feel more attractive and sexier.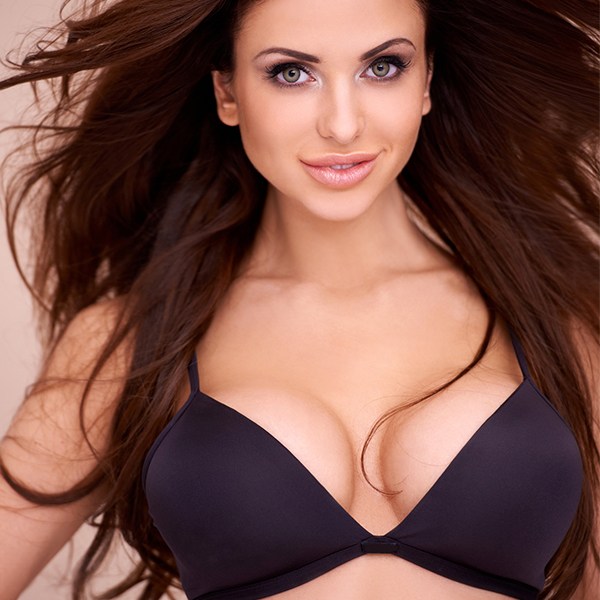 Breast Augmentation
Frequently Asked Questions
Can I get breast implants?
If you have breasts that are too small for your liking and are relatively healthy, have realistic expectations of the surgery and understand the related risks, then breast augmentation may be suitable for you.
Saline or silicone?
There are two main types of implants used in breast augmentation – saline implants and silicone implants. Both are contained in an outer silicone shell, and both are durable. Neither type of implant has been known to hinder breast health. Both are safe, common, and do not interfere with a woman's natural aging process.
Saline implants are filled with sterilized salt water once the shells are in place inside the body. If the implants leak, they will collapse and the saline will be naturally absorbed by the body without any health risks. The remaining silicone shell will need to be removed by Dr. Levine and a new implant can replace it at that time.
Silicone implants are pre-filled with a smooth, cohesive gel. They look and feel the closest to natural breast tissue. However, if they rupture, they will not collapse and the gel will remain within the shell or in the breast. Most ruptures occur without any symptoms. These are known as "silent ruptures."
Although both materials are durable, it is important to note that breast implants may not last a lifetime. While it is uncommon, you may need to have your implants replaced. Even after breast augmentation, your breasts can change with your age, weight, feeling and pregnancy hormone levels.
While the choice is ultimately yours, Dr. Levine has found that silicone implants provide a more natural looking result. However, if you have a nice breast shape and sufficient tissue to begin with, then natural results can be achieved with saline or silicone breast implants.
Will I be able to exercise, sky dive or do any other rigorous physical activities after surgery?
In general, a woman should be able to do any physical activity after recovering from breast augmentation surgery that she was able to do before it. Both saline and silicone implants are strong and will not rupture under the pressure that such activities may cause.
You can climb Mt. Everest, SCUBA dive, skydive, fly in an airplane, and visit the Dead Sea with silicone and saline breast implants. Changes in pressure or altitude, wearing a wetsuit or parachute harness will in no way affect your implants. Once you have recovered from surgery, you can resume your normal activities without concern. Generally, you can resume full activities after about a month.
It is important to note that breast augmentation, while giving you the firm, full breasts of your youth, does not prevent the effects of gravity and aging. Breasts sag because of gravity and aging. The more you support them, the less effect the weight of the implant will have on the tissue of your breasts. Big or small, there is little doubt that a bra reduces the pressure of the implant on your skin. So the more you wear a bra, the better your breasts should age over time.
Can I breast feed with breast implants?
There is no clear way to know before child birth if a mother, with or without implants, can breastfeed fully, needs help due to a low milk supply, or can partially breastfeed but needs to supplement with formula. Genetics, hormones, and the ability of the baby to appropriately latch on all play a part in breastfeeding.
It is possible to breastfeed after breast augmentation procedures. Some women do experience milk loss, but ways to increase your milk production can be discussed with your primary physician after breast augmentation. Dr. Levine will discuss your breastfeeding plans during your consultation.
What are the incision sites for breast augmentation?
Dr. Levine prefers the inframammary approach. Based on his research, he has found it to be associated with complication rate. However, there are other incision sites. Implants can be inserted into your body via a crease under your breast (inframammary incision), via the areola (periareolar incision), or via the armpit (transaxillary incision). Dr. Levine is also comfortable performing augmentation through other incisions.
Inframmary incision: The inframammary incision in breast augmentation is the most popular technique among plastic surgeons. Inframammary incisions are made in the fold where the lower part of the breast meets the chest wall. It offers direct access to the areas where a pocket will be created for an implant, without damaging the surrounding muscular tissue.
Periareolar incision: Periareolar incisions are made at the outer edge of the areola, following the curve that separates the darker skin of the nipple from the rest of your breast. Because the colour around the areola is darker, the scar is usually well-camouflaged, sometimes virtually invisible within a few weeks after surgery. The chance of hardness of the breast is higher with this incision.
Transaxillary incision: Transaxillary incisions are made in the natural fold in the armpit. Once the incision has been made, a channel to the breast is created, and a pocket is made for the implant. Both saline and silicone implants can be used in this method. One downside to transaxillary incisions is that the incision location can only be used once. If revision surgery is required a second scar will be required on the breast.
Should I go over or under?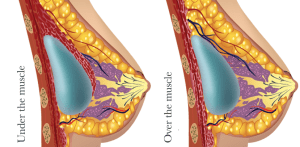 Your implant can be inserted into a pocket in one of two places – partially under the pectoral muscle (submuscular) or directly behind the breast tissue over the pectoral muscle (submammary/subglandular). Often times, deeper implant placement helps camouflage implant related imperfections, which is true for submuscular placement. That's why it's preferred for very thin, lean women. Because the muscle better conceals implant characteristics, edges and rippling may be less visible.
In a subglandular placement, the implant is placed in a pocket behind the breast gland, entirely on top of the pectoral muscle. If your breasts are slightly sagging, subglandular placement offers a lift effect unrestricted by overlying muscle.
If an inch of tissue can be pinched in the upper pole of your breasts, then subglandular placement may be better. This is because the results look more natural (since there's no breast tissue under your muscles).
Your incision site and implant placement will be decided during your initial consultation with Dr. Levine and will be based on your lifestyle, desired breast outcome, and anatomy.
When will I see my results?
You should wait about 4 months to see your final results.
What are the risks of a breast augmentation?
As with any surgery, there are inherent risks with undergoing a breast augmentation. Possible breast augmentation surgery risks include:
Changes in nipple or breast sensation, which may be temporary or permanent
Breast contour and shape irregularities
Breast asymmetry
Poor wound healing
Unsightly scarring
Wrong or faulty position of the implant
Implant leakage or rupture
The formation of tight scar tissue around the implant (capsular contracture)
Fluid or blood accumulation (seroma or hematoma)
Wrinkling of the skin over the implant
Possibility of revisional surgery
Many complications can be avoided by precisely following Dr. Levine's pre- and post-surgical instructions and returning for periodic follow-up appointments.
What is capsular contracture?
Capsular contracture (CC) is a complication of breast augmentation surgery. CC occurs when scar tissue that normally forms around the implant tightens and squeezes the implant and becomes firm. It is generally caused by an immune response to having a foreign material in the body and can happen in patients with artificial joints, prostheses, or pacemakers as well as those who have breast implants.
Capsular contracture is rated on a four-grade Baker scale as follows:
Grade I – the breast is normally soft and appears natural in size and shape
Grade II – the breast is a little firm, but appears normal
Grade III – the breast is firm and appears abnormal
Grade IV – the breast is hard, painful to the touch, and appears abnormal
Limiting the handling of implants, allowing minimal contact with the chest wall skin before insertion, and irrigating the sites with antibiotic solutions have all decreased the incidence of CC in breast augmentation patients.
In a 15 year study of 1,400 breast augmentation patients, 26.9% experienced capsular contracture of some sort. These were linked to implant type, pregnancy after implantation, infection, and hematoma. Experiencing previous radiation treatment, and undergoing radiation treatment after a breast augmentation for breast cancer can also greatly increase the likelihood of experiencing CC.
Capsular contracture can be corrected surgically by removing the scar tissue in a procedure known as a capsulectomy.
What happens if my implants rupture?
In a report released in June 2011, the
FDA
supports the safety and effectiveness of silicone implants when used as intended, but states that women should fully understand the risks before considering getting them. Breast implants are not lifetime devices. The longer a woman has them, the more likely she is to have complications and need to have the implants removed or replaced.
Some possible causes of implant rupture are:
Capsular contracture
Compression during a mammogram
Damage by surgical instruments
Damage during procedures to the breast, such as biopsies and fluid drainage
Normal aging of the implant
Over-filling or under-filling of saline-filled breast implants
Physical stresses to the breast such as trauma or intense physical pressure
Currently, when a saline-filled implant ruptures, the saline leaks into the body and is absorbed. This may leave the breast deflated, uneven, or soft.
In the case of silicone gel-filled breast implant ruptures, some women may notice decreased breast size, hard knots, uneven appearance of the breasts, pain or tenderness, tingling, swelling, numbness, burning, or changes in sensation. However, most ruptures occur without any symptoms. These are known as "silent ruptures."
Magnetic Resonance Imaging (MRI) is currently considered the most effective way to detect a rupture of a silicone breast implant.
Current breast augmentation procedures are the product of nearly 60 years of research and development. When there was a perceived with silicone implants, the Food & Drug Administration of the United States and Health Canada immediately pulled silicone implants from the market. When they were allowed back on the market in November 2006, manufacturers were required to conduct follow-up studies on the long-term safety and performance of implant devices. The results were conclusive with consistent and convincing findings of no association between breast cancer and breast implants. A 2015 long-term review of 32 studies further concluded that there was no conclusive link between silicone gel implants and long-term health outcomes such as breast cancer.
Length Of Surgery
1-2 Hours
* All prices are subject to tax (HST)
Breast Augmentation
Before & After Photos
Sometimes Bigger Is Better
If you want to increase the fullness and projection of your breasts, accentuate your body shape with a curvier look, improve the balance of your figure, enhance your self-image and self-confidence and feel more attractive and sexier BOOK AN APPOINTMENT TODAY!
Why Dr. Levine Is The Master Of Breast Augmentation In Toronto
Dr. Levine conducts research on breast augmentation
Dr. Ronald Levine
Master Cosmetic Surgeon & Professor
Master of Surgery
Most plastic surgeons are not interested in conducting research to contribute to the advancement of the medical field. They rely on the research of others to select which techniques to use during surgery. Dr. Levine is not one of these surgeons.
While Dr. Levine does remain up to date on advancements in the field, he is also dedicated to improving the surgical experience of patients by performing his own research. That means he is continually refining his techniques. His ultimate goal is to make your surgery the safest possible and obtain your desired results with the least invasive methods.
Dr. Levine is the principal author of an abundance of research papers devoted to breast augmentation and other body contouring procedures, including tummy tucks and liposuction. He is currently researching the complication, capsular contracture, and whether breast implant type and incision location are contributing factors.
To help advance the field as a whole, Dr. Levine routinely presents at national and international plastic surgery meetings to share his findings with his colleagues. To date, he has delivered 40 to 50 presentations. The majority of these are focused on cosmetic breast surgery. As a result, Dr. Levine has become one of the leading breast augmentation surgeons in the world.
Excellent results and low revision rate
Dr. Levine is meticulous. He believes that if you're going to do something, you should do it right the first time. That's probably why his patients enjoy pleasing results and don't require a revision. Patients who undergo a second breast augmentation often do so several years later, usually to change their implant size to accommodate aging or new lifestyle.
"I received a magazine with varies plastic surgeons featured in it. Since I was interested in doing some plastic surgery myself, I decided to do some consultations.
I was not really impressed when I met the doctors that I read about in the magazine. When I started doing more research I discovered that plastic surgeons usually finish school at approximately 30 years old, and work as junior surgeons for 5 years before they can perform surgery on their own. After doing consultations with them, I feel like they don't have enough experience. Most clinics that I walked into seemed very glamorous but that wasn't important to me, I was looking for experienced surgeons and good results.
I am a business owner and laser technician. I have met a few clients who have done surgery with Dr. Levine and was impressed so I booked a consultation with him. When I walked into his clinic I felt like I was walking into a real doctors clinic.
Dr. Levine looks very confident and you can tell he loves what he does. He is very honest and straight forward and really cares about his patients. I booked surgery with him for a Brazilian but lift and tummy tuck and am very happy with my results. The scar isn't noticeable and my bum looks very natural. After that I had a breast lift. He did great! I recommend him to my clients and everyone!"
From Rate MDs
"I did consultations with 4 different doctors before I met Dr. Levine. When I met Dr. Levine, I liked him right away! He was very honest and straight forward. I booked my surgery after 3 weeks for a Tummy tuck and Brazilian but lift. He performed surgery for me in September of 2014. He did a great job! The scar is not noticeable and my bum looks very natural. After one year I decided to do another surgery for a Breast lift. He did a great job! I am 49 years old and my breasts look nice and perky like an 18 year old!
This is the first time in my life that I have ever written a comment. I decided to write a comment because I think Dr. Levine is an amazing doctor with great experience. I think sometimes people expect miracles. Before I did surgery with him, I read his comments. Other peoples comments did not effect my decision, I used my own judgement and I am glad I did! I am very happy!"
From Rate MDs
"Dr Levine is the best! I am beyond satisfied with the results of my breast augmentation! I wasn't sure if I would be happy with the size I was getting but Dr Levine gave me the confidence and at the end this was the perfect size Dr Levine had picked for me!! I would highly recommend him for a breast augmentation."
Neeka Morra
From Google Reviews
"Had a breast aug with Dr. Levine. Best decision of my life! They are amazing and I am a 110% satisfied customer. I have been to several other surgeons in Canada and the states, and he is by far the best, hands down. No one has more experience or education than him. I live in BC and will absolutely fly in for my next procedure, he's worth it."
Melissa B
From Google Reviews
"I had a truly great experience! Dr. Levine is very very talented, professional, and took the time to answer all of my questions. I'm pleased with my results and would highly recommend him."
Reanna Schouten
From Google Reviews
"I first met with Dr. Levine in late September for butt implants. He quickly explained the risks of implants and the better treatment option for me and my body. Dr. Levine was extremely informative and has good bed side manners. He took the time to answer my million questions and not once did I feel rushed, or like I was wasting his time. Christy his office receptionist is amazing!!
…
Thank you so much Dr.Levine and your entire team!!"
hollie dearsley
From Google Reviews
"I have been going to Dr. Levine for years as I have skin cancer. He is always very patient, thorough, diligent, and professional. You know you are in the right hands when you go to Dr. Levine! His office staff are also very friendly, well organized, and patient-care focused. I would not hesitate to recommend Dr. Levine to my family and friends."
Brenda Glover
From Google Reviews
"I just completed my second breast augmentation with Dr.Levine. The first one was incredible and exactly what I dreamed about for so long. I had three children and they were still looking incredible!! If it wasn't for one being encapsulated the first set would have lasted me a lifetime! This time around they look even better (if that's possible!). I am so incredibly happy with the whole experience every time I visit the office. Christy is such a warm and welcoming person and Dr.Levine is very knowledgeable, direct and skilled. Many people have asked me for his reference and five friends and family members have had their own surgery done with rave reviews as well. Look no further!"
Kristin Dennis
From Google Reviews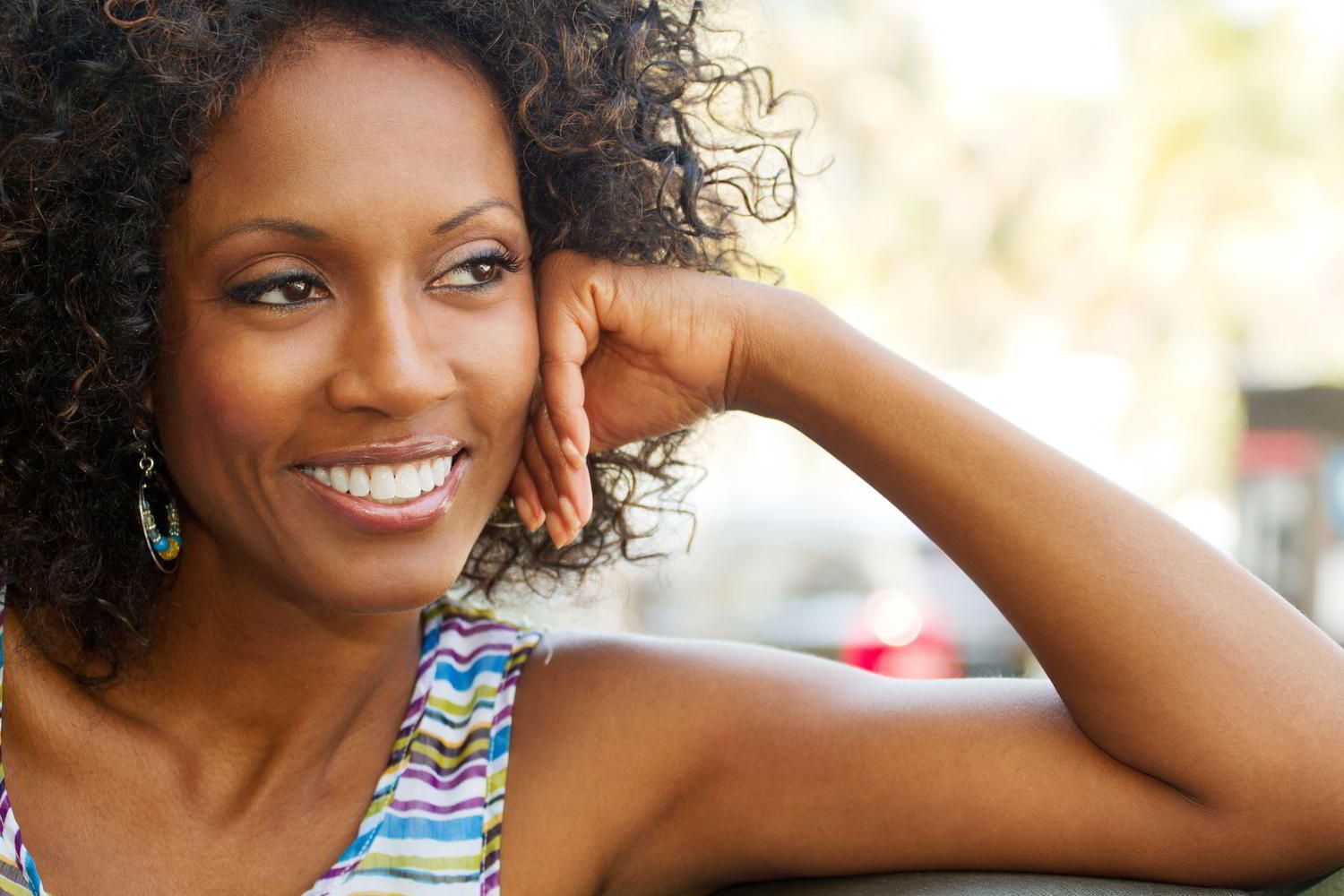 Why Choose Credit Medical?

With Credit Medical, it's easy to apply for financing and get pre-approval within seconds for your procedure, apply online, and rest easy knowing that you can focus on the treatment, not the payment!